Boycott Beijing 2008
2008-04-16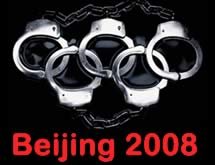 為什麼抵制 2008 北京奧運 ?
抵制2008北京奥運不是抵制中國人民,而是針對中國政府在西藏的鎮壓行動及針對終未解決的中國人權問題所做的反制行動。
尊重人權議題應該開放對所有中國人民,包括西藏人民。在這裡我們關注的是西藏人權問題。即使中國政府在西藏沒有法定權利,西藏獨立是另一議题而不在此討論。
人權問題和新聞自由之間有何關係?
我們的視界觀點由媒介有意或無意地操作。但至少在有新聞自由的國家,關於我們想要相信的我們有所選擇。 人權問題的探討必須在民眾的觀念內生根。而在沒有新聞言論自由的國家,各種問題的探討〈包括人權問題〉均受政府鉗制。新聞言論自由終究是所有問題的根源。
English translation
Why boycotting ?
The action of boycotting 2008 Olympic Games in Beijing is not against Chinese people, but against Chinese government's repression in 2008 Tibetan unrest. The boycotting is surely a politic issue, but refers to human rights problems in China.
Human rights should be respected for all Chinese people, including Tibetan people (Here we talk only about Tibetan human rights. We don't even discuss about Chinese government's legal right on Tibet. Tibet Independence is another issue).
Then what the hell is the relationship between the human rights and the press freedom?
I believe that all ours visions of the world are manipulated by media (intentionally or unintentionally). At least in a country that has press freedom, we have the choice to take about what we want to believe - that's all about it. Human rights issue is just one of our visions, it can only be rooted on people's mentality where there is press freedom.
Traduction française
Pourquoi ce boycott ?
L'acte de boycott des jeux Olympiques 2008 de Pékin ne vise pas le peuple chinois, mais les actes de repression du gouvernement chinois au Tibet.
C'est un acte politique certe, mais qui se focalise sur les problèmes de droits de l'homme existants en Chine depuis lontemps.
Les droits de l'homme doivent être respectés et appliqués pour l'ensemble du peuple dans le pays - pour le peuple chinois et pour le peuple Tibétain. Ici on ne parle même pas du problème de l'indépendance de Tibet, ni de la légitimité de la Chine sur le territoire tibétain…
Alors quel rapport entre les droits de l'homme et la liberté de la presse?
Nos visions du monde sont toujours manipulées par les médias intentionellement ou non (en tout cas c'est ce que je crois). Mais au moins dans un pays où on a le droit de s'exprimer librement, on a le choix de notre vision du monde. Le problème des droits de l'homme est une des nos visions, il ne peut que s'enraciner dans la mentalité des peuples là où il y a la liberté de la presse.