Notepad++ 6.7.4 Je suis Charlie edition
2015-01-10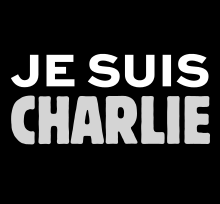 La liberté d'expression est comme l'air que l'on respire, nous ne sentons pas son existence, jusqu'à ce qu'on nous en prive.
Pour cette raison, Je suis Charlie, non parce que je soutiens toutes les publications de ce journal, mais parce que je revendique le droit de pouvoir s'exprimer librement sans représailles, même si cela offense des gens. Et non, personne n'a le droit de prendre la vie de quelqu'un pour ce qu'il (elle) a exprimé.
D'où cette édition «Je suis Charlie».
English translation
Freedom of expression is like the air we breathe, we don't feel it, until people take it away from us.
For this reason, Je suis Charlie, not because I endorse everything they published, but because I cherish the right to speak out freely without risk even when it offends others. And no, you cannot just take someone's life for whatever he/she expressed.
Hence this "Je suis Charlie" edition.
中文翻譯
言論自由像是空氣,我們感覺不到它的存在,直到有一天其他人將它從我們的身邊抽離。
這也就是為甚麼,我是查理(Je suis Charlie)。不是因為我贊同他們(Charlie Hebdo)所有的發行,而是因為我主張沒有生命風險地暢所欲言的權利-即使這言論冒犯了他人或褻瀆了神明。 沒有人有權取走他人的生命,只因為他/她的表達觸犯了你。
僅此,發布Notepad++ 『我是查理』(Je suis Charlie)版。
Download Notepad++ Je suis Charlie edition here: