Notepad++ Release 7 - 64-bit available
2016-09-21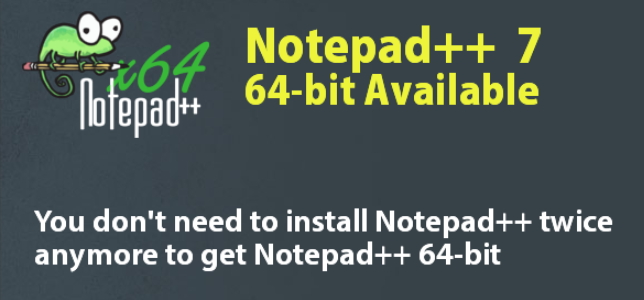 Here is Notepad++ 7 Release - 64-bit version is available.
However, not all binaries are available in 64-bits - only a few plugins (done by me) are x64 ready. I encourage plugin authors to make your x64 build availabe, so Notepad++ x64 users will benefit from your plugins: https://github.com/npp-plugins/plugintemplate
All Notepad++ plugins developped by me available for x64 build here: https://github.com/npp-plugins
Of course 64-bit is not the only "feature" in v7. A vulnerability of installer has been fixed in this version as well. There's so many more new features and bug-fixes, check the change list in the download page for more detail:

The updater will be triggered in 2 weeks, if there's no critical issue found.